MEDICAL LABORATORY TECHNICIAN - MLT(ASCP) Questions and Answers
Question 1
The indole (modified Kovacs' reagent) is used to assess the ability of certain bacteria to produce indole by the deamination of tryptophan. Indole reacts with aldehyde in the Kovac's reagent to produce a red color. An alcoholic layer holds the red color as a ring at the top of the tube used for the idole test.
If a bacteria produces the enzyme tryptophanase to break down the amino acid tryptophan, which of the following tests will be positive with Kovac's reagent?
Question 2
The ApoB/ApoA1 ratio has a positive risk marker (ApoB-100) and a negative risk marker (ApoA1). Risk diminishes as ApoA1 goes up (a negative marker) and risk increases in proportion to ApoB concentrations (a positive risk marker). This 'double-edged sword' provides good risk prediction. The other risk markers in question do not have this dual-advantage.
Which risk marker has both positive and negative cardiovascular risk integrated into its measurement?
Question 3
The laboratory employee with an 2-year associate degree who performs clinical testing is the:
Question 4
The body compensates for alkalosis or acidosis of the blood PRIMARILY to regain a normal pH, between 7.35 - 7.45.
When the body compensates for a respiratory or metabolic disorder, the MAIN goal is to achieve:
Question 5
Match each virus with its appropriate nucleic acid content.
1. Paramyxovirus
2. Rhabdovirus
3. Poxvirus
4. Orthomyxovirus
Question 6
The cell shown in this image is a myelocyte. Myelocytes typically have an eccentric nucleus with cytoplasm similar to a mature neutrophils with a slightly bluer tint due to the cell's immaturity.
Myelocytes have both primary and secondary granules present in the cytoplasm. The nucleus is less mature and therefore has a loose chromatin clumping pattern.
Identify the cell in this illustration indicated by the arrow:
Question 7
The correct answer for this question is 1300 mg/dL. The laboratorian performed a 1:4 dilution by adding 0.25 mL (or 250 microliters) of patient sample to 750 microliters of diluent. This creates a total volume of 1000 microliters. So, the patient sample is 250 microliters of the 1000 microliter mixed sample, or a ratio of 1:4. Therefore, the result given by the chemistry analyzer must be multiplied by a dilution factor of 4. 325 mg/dL x 4 = 1300 mg/dL.
After experiencing extreme fatigue and polyuria, a patient's basic metabolic panel is analyzed in the laboratory. The result of the glucose is too high for the instrument to read. The laboratorian performs a dilution using 0.25 mL of patient sample to 750 microliters of diluent. The result now reads 325 mg/dL. How should the techologist report this patient's glucose result?
Question 8
G6PD deficiency causes an increased suseptibility to the oxidation of hemoglobin, which in turn, causes the precipitation of hemoglobin inside of the red blood cell.
Which one of the following conditions is associated with glucose-6-phosphate dehydrogenase (G6PD) deficiency?
Question 9
One of the following may cause a laboratory acquired infection (LAI):
Question 10
1. B
2. D
3. A
4. C
Red to Brown Urine: porphobilinogen, hematuria, myoglobinuria, etc.
Green: Food colorings; Increased carotene in the diet;
Pseudomonas aeruginosa infection
Yellow: bilirubin, bile pigments
White: phosphates, other crytals
Match urine color with substance that might have been responsible:
1. Phosphates
2. Bilirubin
3. Pseudomonas
4. Porphobilinogen
Question 11
Sterile yellow stopper tubes contain thixotropic gel and a clot activator.
Question options:
Question 12
Considering the reactions given in this case study, Yersinia enterocolitica would be the best choice.
Most strains of Plesiomonas shigelloides, Escherichia coli, and Pasteurella multocida are urease negative. Also, Plesiomonas shigelloides demonstrates a K/A reaction on a TSI slant.
The stool specimen from a patient admitted to the hospital with symptoms of appendicitis has a culture with the following characteristics:
Gram-negative bacillus
Catalase positive
Urease positive
Weakly fermentative
TSI Slant is A/A
These reactions suggest that the organism is MOST likely:
Question 13
Neutrophils, lymphocytes and macrophage/ monocytes can be found in all types of body fluid differentials. Bronchial cells can be found only in bronchial washings and BAL specimens. Mesothelial cells are found only in serous body fluids including pleural fluid, peritoneal fluid, and pericardial fluid.
Select the specific cells listed below that can be found in all types of body fluid.
Question 14
A positive spot test shows agglutination of horse erythrocytes when added to patient serum previously absorbed with guinea pig kidney, but not when added to patient serum previously absorbed with beef erythrocyte stroma. The test is generally simple, sensitive, and specific, but false negative are common in young children with mononucleosis.
The most common rapid slide test (MONOSPOT©) for infectious mononucleosis employs:
Question 15
Failure to tightly seal specimens for sweat electrolytes during collection and transport will cause:
Question 16
Normocytic- G6PD deficiency, Malaria
Microcytic- Iron deficiency, Thalassemia
Macrocytic- Chronic Liver Disease, Vitamin B12 deficiency
Hematology
Match the disease conditions with appropriate red cell size classification
1. G6PD deficiency, Malaria
2. Iron deficiency, Thalassemia
3. Chronic Liver Disease, Vitamin B12 deficiency
Question 17
L/S ratio <2.0 indicates an increased risk of respiratory distress syndrome (RDS) at delivery. L/S ratio <1.5 indicates a very high risk of developing RDS.
Which of the following statements regarding the L/S ratio is TRUE?
The correct answer is highlighted below
A ratio of 2:1 or greater usually indicates adequate pulmonary surfactant to prevent respiratory distress syndrome (RDS)
A ratio of 1.5:1 indicates fetal lung maturity in pregnancies associated with diabetes mellitus.
Sphingomyelin levels increase during the 3rd trimester causing the L/S ratio to fall slightly during the last two weeks of gestation.
A phosphatidylglycerol (PG) spot indicates the presence of meconium in the amniotic fluid
Lecithin is in direct ratio with sphingomyelin
Heparin contamination is characterized by an elevation in the aPTT test and can also cause an increased PT test as well. Reptilase time tests are used to elimate the effects of heparin contamination as the reagents and method are resistant to the effects of antithrombin III, unlike the PT and aPTT tests. Therefore, it would be expected that a patient sample containing pre-analytical heparin contamination will show an increased aPTT (and sometimes PT as well) while showing a normal reptilase time.
A specimen drawn from an indwelling catheter that was contaminated by heparin would be indicated by:
Question 18
Which of the following fields is NOT an aspect of clinical microbiology?
Question 19
As maturation continues in the granulocytic series the nucleus of the metamyelocyte becomes kidney or bean shaped.
Identify the cell in this illustration indicated by the arrow: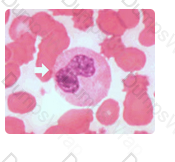 Question 20
Match terms with fragments resulting from papain digestion of an IgG molecule: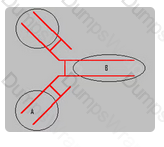 A = Fab fragment OR Fc fragment
B = Fab fragment OR Fc fragment
Question 21
Nucleated RBCs may be seen in the peripheral blood in cases of beta thalassemia major. Nucleated RBCs are usually not found in peripheral blood in cases of beta thalassemia minor and beta thalassemia intermedia, and would not be a finding in beta thalassemia minima.
Nucleated RBCs are most likely to be seen in the peripheral blood of which of these beta thalassemias?
Question 22
Primary- Target glands (such as thymus, thyroid, parathyroid, etc.)
Secondary- Pituitary gland
Tertiary- Hypothalamus
Match the type of endocrine dysfunction with the appropriate organ:
1. Target gland
2. Pituitary gland
3. Hypothalamus
Question 23
Blood bank
Which of the following is the most common subgroup of A?
Question 24
The antiglobulin test may be omitted from the serological crossmatch if the patient's antibody screen is negative and there is no history of detection of unexpected antibodies.
Blood Bank
What must be true for the antiglobulin phase of the serologic crossmatch to be omitted (i.e., immediate spin crossmatch is done)? Please select all correct answers
Question 25
The production of long, tapered phialides is one of the key identifying features of Trichoderma species. In contrast, Penicillium species, produce phialides with blunt ends.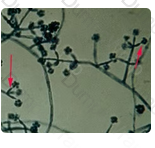 The phialides of Beauveria species are geniculate, forming a zig-zag pattern.
The arrows in the image on the right point to single, long, tapered phialides that extend laterally from either side of the hyphae. This is an identifying feature of which of the fungi listed below?
Question 26
Charcot-Leyden crystals in stool are thought to be created from damaged eosinophil byproducts. These crystals have a strong association, although they are rare, with parasitic infections or allergic reactions.
Charcot-Leyden crystals in stool may be associated with an immune response and are thought to be the breakdown products of:
Question 27
Increased concentrations of alpha-fetoprotein (AFP) in adults are MOST characteristically associated with:
Question 28
Modified Thayer Martin agar at 35ºC with CO2 is the correct answer. This is a typical presentation of systemic gonorrhea and Neisseria gonorrhea grows best on MTM medium at 35ºC. under CO2. Systemic gonorrhea occurs in 1% of cases and results in purulent arthritis and rarely septicemia.
An 18-year-old woman woke up in the morning to find that her left knee was hot, swollen, and very painful. She could not walk to work and a friend offered her a ride to the clinic. She had never had a swollen joint before. Physical exam revealed a tender knee joint which yielded purulent synovial fluid on aspiration. Gram-negative intracellular diplococci were seen on Gram stain. She also had a cervical discharge that was cultured. The cause of her infection would grow best on:
Question 29
Unconjugated bilirubin is a byproduct of RBC breakdown, or hemolysis. It would be expected to see an increase in unconjugated bilirubin when hemolysis is occuring at an increased rate. The liver enzymes would not remain at normal levels if there were a viral infection of the liver, chemical damage to the liver, or obstruction of bile ducts.
Chemistry
A patient presents with an elevation of unconjugated bilirubin, normal serum alkaline phosphatase, normal liver enzymes, and no bilirubin in the urine. This combination would suggest:
Question 30
Blood plasma will contain coagulation proteins, but not in a clotted tube where serum is present.
Blood serum contains each of the following substances except:
Question 31
Following an AMI, elevated CK-MB returns to normal ranges in 48-72 hours. If a patient has a second AMI in this time period, a second rise in concentrations of CK-MB would be seen. This is not true for the cardiac troponins since they remain elevated 7-14 days following an AMI.
Which one of the following cardiac biomarkers could detect a reinfarction?
Question 32
An ultrarapid metabolizer (UM) would require a higher dose of a drug than an EM (a person with normal enzyme activity) since the UM eliminates the drug more quickly.
A CYP2D6 ultrarapid metabolizer (UM) would require ___________ dose of an active drug (non-prodrug) that is metabolized by CYP2D6 than a CYP2D6 extensive metabolizer (EM).
Question 33
The parents will each give one of their ABO genes, so the possibilities are as follows:
AB, AO, AB, AO = 50% chance of A blood type, 50% chance of AB blood type
Blood Bank
If parents have the blood group genotypes AA and BO, what is the possibility of having a child with a blood type of A?
Question 34
Because of the difficulty in culturing Epstein-Barr virus, and readily available heterophile antibody test and serology, it is rarely necessary to culture this virus in routine clinical practice.
Micro
Which one of the following viruses requires a complex lymphoblastoid cell culture, and is rarely if ever diagnosed by culture:
Question 35
The characteristic that distinguishes vancomycin-resistant Enterococcus faecium and Enterococcus faecalis from other Enterococcus species is their lack of motility.
Enterococci are all catalase-negative. Growth on bile esculin agar and in 6.5% salt broth are two characteristics that have commonly been used to identify Enterococcus to the genus level. A positive esculin in combination with a positive PYR reaction is another approach to presumptive identification.
Which one of these characteristics distinguishes vancomycin-resistant Enterococcus faecium and Enterococcus faecalis from other Enterococcus species?
Question 36
Alpha-fetoprotein is a substance typically used in the triple test during pregnancy and for screening chronic liver disease patients for hepatocellular carcinoma.
Increased concentrations of alpha-fetoprotein (AFP) in adults are MOST characteristically associated with:
Question 37
Sally is seeing her new primary care provider for the first time. When she signs in, she is asked to sign papers for the release of medical records, including her laboratory results. According to the Health Insurance Portability and Accountability Act (HIPAA), she must authorize release of records before _______________would be permitted to receive and review her records.
Question 38
A blood culture to evaluate septicemia is performed in:
Question 39
Insulin is the hormone that is mainly responsible for the entry of glucose into the cell for energy production
Glucagon and epinephrine promote glycogenolysis, conversion of glycogen to glucose, which increases plasma glucose. Cortisol, along with glucagon, increases gluconeogenesis, formation of glucose from noncarbohydrates, which also raises plasma glucose concentration.
Chemistry
Which of the following hormones is mainly responsible for the entry of glucose into the cell for energy production?
Question 40
Which of the following Rh antigens is found the highest frequency in the Caucasian population:
Question 41
Provide the equivalent measurement for one gallon.
Question options:
Question 42
The beta hemoglobin chain loci are found on which chromosome?
Question 43
The role of the point-of-care testing (POCT) compared with in-laboratory testing is the
Question 44
The Clinical Laboratory and Standards Institure (CLSI) recommends that all patient specimens are delivered to the laboratory no more than 2 hours after collection to reduce pre-examination variables caused by cellular action and the effects of prolonged exposure of specimens to room temperatures, such as:
Question options:
Question 45
CD34, a cell surface marker, presents on undifferentiated pluripotential hemopoietic stem cells. CD34 is a cell surface glycoprotein and functions as a cell-cell adhesion factor.
Which one of the following antigen markers is BEST associated with stem cells?
Question 46
Convert the following temperature from Celsius to Fahrenheit
20 degrees C
Question options:
Question 47
Polyspecific antihuman globulin (AHG) reagent contains both anti-IgG and anti-C3d.
Polyspecific antihuman globulin (AHG) reagent used in antiglobulin testing should react with which one of the following?
Question 48
This patient is most likely suffering from an immediate-acting coagulation inhibitor; most commonly, lupus anticoagulant. Notice that the addition of normal pooled plasma does not correct upon initial or incubated mix, which means that the inhibitor is not time or temperature-dependent.
Factor VIII is not the correct answer as a factor deficiency would have corrected upon the addition of normal pooled plasma. Factor VII is not the correct answer, as the aPTT assay does not account for factor VII activity or concentration.
The laboratorian completed the mixing study ordered for John Doe. The results are as follows:
Initial aPTT result: 167 seconds
Initial 1:1 Mix with Normal Pooled Plasma: 158 seconds
Incubated 1:1 Mix with Normal Pooled Plasma: 150 seconds
Which of the choices below would most likely explain the results for this patient?
Question 49
A young man is experiencing difficult breathing after fainting. The physician orders a blood gas analysis which shows the following results:
pH = 7.25
pCO2 = 62 mmHg
pO2 = 70 mmHg
HCO3 = 23 mEq/L
Which condition is most likely afflicting this patient?
Question 50
Which of the following is NOT part of the magnification system of the microscope?
Question 51
Valine substitutes for glutamic acid in the Beta 6 position to produce HbS.
To produce hemoglobin S, glutamic acid that is normally present in the sixth position on the beta globin chain is substituted with which of the following?
Question 52
The correct response is option B: The Hepatitis B "e" Antigen (HBeAg). This antigen indicates the virus is actively replicating and therefore the patient is very infectious. The hepatitis B "e" antigen is present when the virus is actively replicating. In cases of unintentional needlesticks, infectivity is of highest concern. The risk for infection is greatest during phases of increased HBeAg serology. The Hepatitis B surface antigen is the first detectable marker, but if the patient is known to have Hepatitis B already, it would be relatively unhelpful to confirm the condition with another HBsAG test. The core antigen is not detectable because it is covered by the nuclear envelope. Antibody response patterns would not be very helpful either as the patient has already been diagnosed with acute Hepatitis B. IgG antibodies would indicate recovery, which is not the case for this patient and IgM antibodies indicating a recent or acute infection would only confirm what is already known. Recall, in cases of unintentional needlesticks, infectivity is of highest concern.
A phlebotomist at a local hospital recently had an accidental needle stick while drawing blood from a patient being treated for acute hepatitis B. Which serological marker from the patient would be of most value to the physician evaluating the phlebotomist's possible infection status?
Question 53
hs-CRP is a more sensitive version of the C-reactive protein (CRP) test, a test that has been used for many years to assess inflammation in settings such as lupus, transplantation, infection, etc.
Which of the following cardiovascular risk markers is a more sensitive version of a test that is used to assess inflammation?
Question 54
Elevation in conjugated bilirubin is most likely to be found in which of the following conditions:
Question 55
Western blot analysis is frequently utilized as the confirmatory method of HIV detection.
Which of the following assays is routinely used for confirmation of HIV infections:
Question 56
What are the certification requirements for clinical laboratory professionals?
Question 57
Skeletal deformations result from the increased erythropoiesis that occurs in beta thalassemia major. Children with beta thalassemia intermedia may demonstrate some facial bone deformity, however this is not common. Beta thalassemia minor rarely causes any physical signs or symptoms and beta thalassemia minima is completely asymptomatic.
Skeletal deformations are most commonly present in which of the following beta thalassemias?
Question 58
The conidia of Exophiala species are produced within phialides that extrude the conidia in tight, ball-like clusters.
The large, drum stick-shaped muriform macroconidia of Alternaria species are arranged in short chains; the small, elliptical conidia of Cladosporium species are arranged in both long and short, branching chains.
Which of the following dematiaceous fungal species produce conidia in clusters?
Question 59
Spirochetes such as Borrelia and Treponemes are best visualized using darkfield microscopy. Borrelia, which causes Relapsing fever, can be visualized under darkfield microscopy of wet preps of peripheral blood. Treponema can be visualized by darkfield microscopy of early primary lesions, and aspirates of affected lymph nodes.
Which of the following organisms is best visualized by use of a darkfield microscope:
Question 60
A person classified as an ultrarapid metabolizer (UM) has a polymorphism that enhances the catabolic activity of the enzyme. This means that a UM would need more of the drug to achieve a 'normal' level since he/she is rapidly metabolizing the drug.
Chem
In therapeutic drug monitoring, a person who is classified as an ultrarapid metabolizer (UM) would need __________ of a drug metabolized by that enzyme.
Question 61
Urinalysis & Other Body Fluids
Match the following urine chemical reagent strip test pads to the disease or disorder that would most likely cause a positive test result.
1. Ketones
2. Blood
3. Bilirubin
4. Nitrites
Question 62
Which of the following is NOT part of the stand or framework of the microscope?
Question 63
Two CSF specimens were sent to the Lab with the following results:
Tube #1 = 11,200 rbc/µL
Tube #2 = 300 rbc/µL
The results on these CSF specimens are indicative of:
Question 64
UA & Body Fluids
What is the identification of this crystal seen in a urine with an alkaline pH?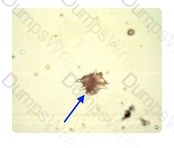 Question 65
he last choice in this question is false. Rocky mountain spotted fever is NOT geographically restricted to the Rocky mountain region. In fact, according to the CDC, this disease is widely distributed east of the Rocky Mountains and also occurs in limited areas on the Pacific Coast.
Which one of the following statements is false?
Question 66
AHG must be added immediately after washing to prevent the possibility of a false negative; a false negative can occur in this situation because previously bound globulins may dissociate from red cells, leaving insufficient antibody coating on the red cells to produce a reaction, or free antibody may directly neutralize antiglobulin reagent.
Blood bank
A false-negative reaction while performing the DAT technique may be the result of:
Question 67
Specimens collected from patients in contact isolation should be:
Question 68
As magnification DECREASES, the opening of the iris diaphragm will...
Question 69
Which area of the laboratory is responsible for blood coagulation studies that test for the patient's ability to clot their blood?
Question 70
Phase of reactivity is primarily at immediate spin (4+) and reactions get weaker at AHG (w+). There is no specific pattern of reactivity and the auto control is negative which rules out an autoantibody. This is a strong cold antibody which is still slightly present after incubation and washing.
Activation and binding of the antibody takes place at room temperature or colder. Eliminating this phase will prevent the antibody from binding. Cold antibodies usually are more of a nuisance to blood bankers and are not clinically significant.
When performing an antibody screen, both the screen cells are 4+ at immediate spin and W+ at AHG. The antibody panel shows 4+ reactions at immediate spin and W+ reactions at AHG and there is no specific match to the reaction pattern. The auto control is negative. What would be a logical next step?
Question 71
As magnification INCREASES, the field of view will...
Question 72
Which of these advancements in the clinical laboratory has led to concerns about patient privacy
Question 73
Transpeptidase enzymes catalyze the final stage of peptidoglycan synthesis during cell wall formation. Beta-lactam antibiotics bind with these enzymes, interfering with their function. The transpeptidase enzymes are also referred to as PBP's, or penicillin-binding proteins.
Beta-lactam antibiotics interfere with cell wall synthesis by:
Question 74
Hemoglobin F has a high affinity for oxygen. When Hb F is elevated, cells containing Hb S are more oxygenated and do not sickle as readily as they would if Hb F were not present or present in small quantities.
Which hemoglobin, when elevated, acts as a protection against sickling in patients with HbS?
Question 75
Small, dense LDL is most likely to interact with arterial walls, leading to deposition of cholesterol, and initiating or worsening atherosclerosis. Small, dense LDL is associated with more than a three-fold increase in the risk of coronary heart disease.
Large, buoyant LDL is less atherogenic than small, dense LDL.
The LDL phenotype A is normal. It is the so called 'B' pattern that is associated with increased risk.
Which of the following is most likely to interact with arterial walls, leading to deposition of cholesterol, and initiating or worsening atherosclerosis?
Question 76
Kell, Kidd, and Duffy are usually warm reacting IgG antibodies. The most common P system antibody is anti-P1, which is a frequently naturally occurring low titer IgM antibody, seen in most P2 individuals.
Blood bank
Which of the following blood groups is most frequently associated with cold agglutinins:
Question 77
Which specimen should be collected last?
Question options:
Question 78
Which one of the following conditions is NOT associated with hereditary spherocytosis?
Question 79
The term that is used to describe the color in these tubes of CSF is "xanthochromia." Xanthochromia is an abnormal color, usually yellow, orange, or pink, in the supernatant of the CSF sample. It may indicate that a subarachnoid hemorrhage (SAH) has occurred.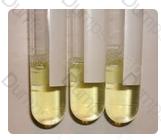 Jaundice and icterus both describe a yellowing of the skin, mucous membranes, and eyes. Blood plasma/serum that is deep yellow is also described as icteric.
What term is used to describe the color in these tubes of cerebrospinal fluid (CSF)?
Question 80
Measuring the turnaround times of troponin tests from the emergency department would provide valuable information. This data represents circumstances in which patient safety may be compromised if results are delayed and treatment is not started as soon as possible.
A laboratory manager wants to evaluate the timeliness of patient services in order to prevent medical errors caused by delay in treatment. Measuring the turnaround time for which of these analytes would provide the most valuable information?
Question 81
Molarity x Molecular Weight x Volume = Grams
Molecular Weight (aka Formula Weight) =
2(1) + 32 + 4(16) = 98
So, 4 x 98 x 0.2L = 78.4g
What weight of H2SO4 is contained in 200 ml of a 4 molar H2SO4 solution? (Atomic weight: H= 1; S = 32; 0 = 16)
Question 82
Serum amylase and lipase levels may be slightly elevated in chronic pancreatitis, but not diagnostic enough to predict chronic pancreatitis; wheras high levels are found only during acute pancreatitis episodes. In the later stages of chronic pancreatitis, normal to decreased levels of amylase and lipase are caused by the gradual inability of the pancreas to secrete the enzyme
All of the statements below regarding amylase and lipase in pancreatitis are TRUE EXCEPT:
Question 83
Though it may not be required, TDM should still be used to confirm adequate dosing. Genotyping does not make TDM redundant.
A PM will metabolize the drug more slowly and therefore will need lower doses. CYP2D6 metabolizes many different drugs; it is not associated with just one class of drugs. Anytime a drug is taken that competes for the same metabolizing enzyme as another drug, there is potential for the concentrations of both drugs to be increased.
A patient has been characterized as a CYP2D6 poor metabolizer (PM) after genotyping. Which of the following statements is not true?
Question 84
Shigella and Salmonella are not found as normal flora in the gastrointestinal tract.
Which of the following are not considered normal flora of the gastrointestinal tract:
Question 85
Convert the following temperature from Celsius to Fahrenheit
-4 degrees C