Delta - Building HPE Hybrid IT Solutions Questions and Answers
Question 1
Exhibit:

Which HPE ProLiant Server meets the customer's requirements?
Which HPE ProLiant Server meets the customer's requirements?
Question 2
A customer Has a data center with third-party routers and firewalls You are designing a new data center network switch architecture consisting of FlexFabric switching for the data network and ArubaOS-Switch switching for the out-of-band management network.
The customer needs a network management platform with the capabilities to manage and monitor the entire environment
Which management platform meets the customer requirements?
Question 3
Match the Networking Product Family to the appropriate use case:

Question 4
Which HPE MSA storage feature enables tuning the tier-migration algorithm for a virtual volume when creating or modifying the volume?
Question 5
Match each ProLiant solution to its ideal use case

Question 6
What is the correct cable type to use when connecting a server to a switch using 10 Gbps Short Range (SR) SFP+ optical connections?
Question 7
Refer to the exhibits.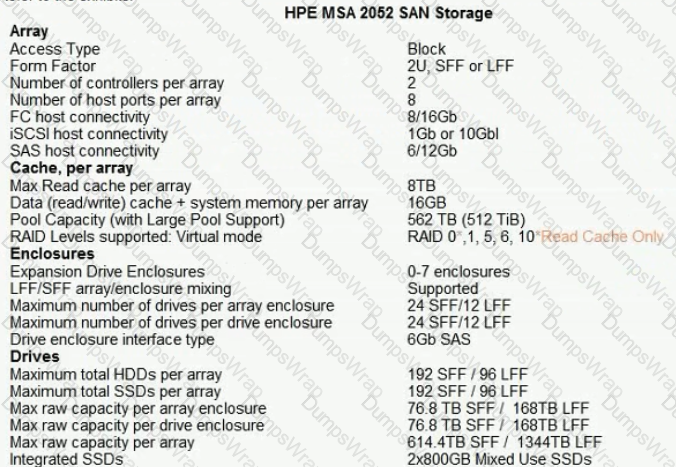 A customer is growing rapidly, and they need to add as many drives as possible to their MSA 2052 array. You created the original configuration. How many drives can be added to the customer array? (Select two)
Question 8
What is the process or writing data to two locations within a single array in real time?
Question 9
A customer recently installed a VMware environment with HPE ProLiants, HPE MSA storage, and Aruba switches.
What should you recommend to the customer to manage their support contracts with HPE?
Question 10
A client needs a data center network for a highly-virtualized server environment. They have the following requirements
• 25 Gb connectivity from the servers to the top-of-rack switches
• support for iSCSl storage
• lowest possible latency between their VM farms, which are contained In separate cabinets and connected to different top-of-rack switches within the data center
• support for Python script interpretation and open APIs
Which networking product line and architecture should you recommend?
Question 11
A customer with limited IT administration resources needs a complete HPE server, storage, and networking solution. The solution must be able to be deployed in an hour or less through a simple, wizard-based setup. They want to manage the HPE solution through a simple, integrated plug-in to vCenter, since their IT staff members are already familiar with vCenter.
Which HPE solution best meets the customer requirements?
Question 12
A customer has a single ProLiant DL560 Gen 10 running a virtualization system. They want to validate installed firmware components at the hardware level.
Which built-in management tool should they use to complete this task?